Complete Guide to the Different Types of Door Locks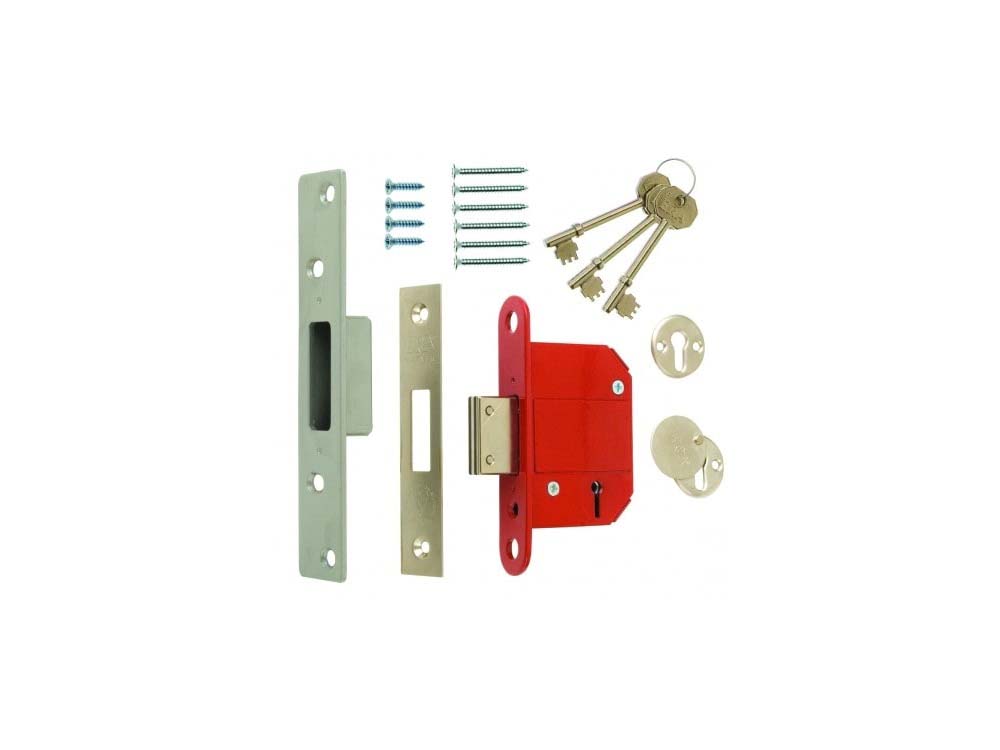 When navigating the different types of door locks, it's not a case of simply finding one that 'looks right'. Instead, you must consider several variables including the type of door you have, the level of security you need and your home insurance requirements. With so many different lock types and names on the market, we've created this handy guide which covers the main door lock types and their pros and cons.
The 5 Most Common Door Lock Types and Names
1. Mortice Locks
One of the most readily available and secure locks is a mortice lock. You'll find this lock in various styles and types, which can be overwhelming, and for this reason, we will break down the most popular mortice lock for exterior use.
What is a mortice lock?
A mortice lock can often be described as a deadlock or a sash lock. This is a unique type of lock that fits into the edge of the door. Mortice lock cylinders are fitted into a hallow or 'morticed' door edge; hence the name 'morticed'. It's not uncommon for home insurance providers to request that a door be made secure with a mortice lock to meet the terms and conditions of the cover.
The 5 lever mortice deadlock
A 5 lever mortice lock is one of the main types of door locks. The extra levers provide sufficient protection to both your interior and exterior doors. The deadlock is lockable from the outside and inside with a key and is usually fitted to wooden doors. If your 5 lever mortice deadlock is not BS362 compliant, we recommend you add an extra layer of protection with a night latch.
You can identify a 5 lever mortice deadlock by the following:
You have a door made from either wood or timber. It's important to remember that 5 lever mortice deadlocks won't be found on uPVC, aluminium or composite doors.
It locks and unlocks from the inside and outside with a key.
The words '5 Lever' should be engraved on the internal faceplate of the lock.
The lock fits within the edge of the door frame.
How to tell if a 5 lever mortice deadlock conforms to BS3621
If your mortice lock is BS3621 compliant, the faceplate of the locking mechanism will be stamped with a British Standard Kitemark and the code BS3621. Your home insurance provider will want to know if your mortice lock is BS3621 approved, as the stamp signifies that it has been tested against common break-in techniques, such as lock picking and drilling, by the British Standards Institution (BSI Group).
As previously discussed, if your current mortice deadlock is not BS3621 approved, we recommend upgrading your lock or ensuring you have a night latch fitted for extra security.
The difference between 3 lever and 5 lever mortice deadlocks
The most apparent difference between the two is the number of levers. The more levers, the higher the level of security. Therefore, a 5 lever lock is more secure than a 3 lever mortice lock. It's also important to note that 3 lever locks are not BS3621 approved.
Advantages of mortice locks
It's more challenging for intruders to forcefully open a mortice lock than other traditional types of cylinder locks.
Mortice locks come in a variety of sizes. The most common case depth sizes are 64 mm (2.5") and 76mm (3").
The aesthetic appeal of a mortice lock provides a classic, antique appearance. They also come in a wider variety of designs than traditional cylinder locks do.
Disadvantages of mortice locks
A mortice deadlock not conforming to BS3621 standards means the lock might have only passed the manufacturers security tests and not the BSI Group's testing.
2. Multipoint Door Lock
Multipoint locking systems are great if you want to add an extra layer of protection to your exterior doors. Multipoint locking systems have multiple locking points along the length of the lock that will lock into the door frame when closed. The locking system will have a minimum of 3 locking points and sometimes up to 7 points. These extra locking points make it harder for opportunist thieves to pry open the door from the top or bottom.
If the cylinder has the British Standard Kitemark visible on the inner edge of the door, then the cylinder has passed PAS3621. This usually means the lock is 'Insurance Approved' and has passed rigorous testing against brute-force attacks, ensuring the locking bolts are strong enough to withstand significant force.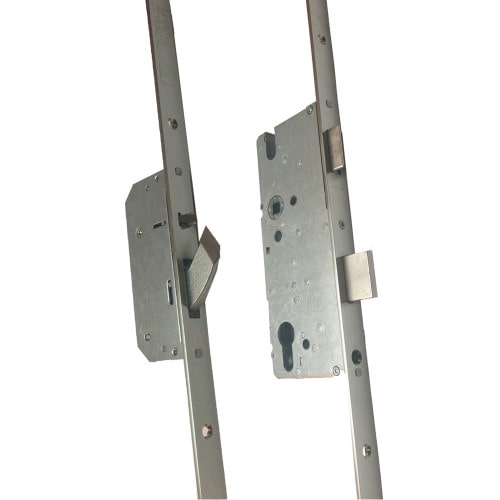 Winkhaus Cobra AV2 2 Hook 55mm Multipoint Door Lock – Single Spindle – Right Hand
You can identify a multipoint locking system by the following:
The door is usually uPVC or composite.
You raise the door handle to lock the door.
The door locks at multiple points along its height and the multiple lock points simultaneously lock when you turn the key.
What type of doors are compatible with multipoint locks?
uPVC doors
Sliding glass doors
Entry doors
How much does a multipoint lock cost?
Prices for multipoint locks vary widely; you can find them for £45 to around £150, depending on the brand, quality and security features.
Advantages of multipoint locks
Easy to replace or upgrade.
Additional door security thanks to multiple locking points.
Better load-bearing, so there is less pressure on the hinges, which can reduce wear and tear.
Disadvantages of multipoint locks
If you don't know how to operate the locking system, you might mistake the door for being fully locked.
3. Rim automatic deadlatch (also known as a night latch)
Rim locks are commonly referred to as 'Yale locks' or 'night latches'. This type of lock is commonly found on front doors and is mounted to the inner surface of the door. For security reasons, when the door is closed, the night latch automatically latches the door shut. However, you can keep the door lock from automatically locking by 'keeping the door on the latch', which is a common phrase you might be familiar with. There are various types of night latches on the market, including the standard night latch, the deadlocking night latch, the auto deadlocking night latch and the double locking night latch.
We recommend fitting an auto deadlocking night latch that is approved by the British Standard 3621. You can ensure extra door security if you opt for a night latch that conforms to BS3621 or fit it alongside a 5 lever mortice deadlock that conforms to BS3621. If you need to use a standard night latch as your main lock, you'll need to inform your home insurance provider.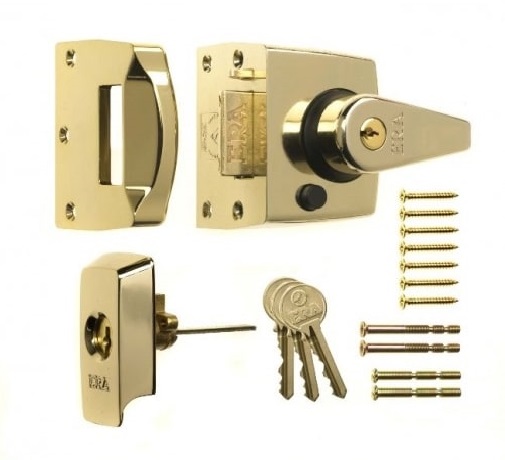 ERA British Standard 60mm Double Locking Night Latch
You can identify a rim automatic deadlatch (night latch) by the following:
A door that is glass panelled or made from wood, as deadlatches aren't compatible with uPVC or composite doors.
The lock is paired with another lock, for example, a 5 lever mortice deadlock, as you don't often see deadlatches on their own.
The lock is fixed into the surface of the door, as opposed to the edge.
You operate the door externally by a key and internally by a small handle which is pulled down to operate the door.
What type of doors are compatible with rim automatic deadlatches?
Deadlatches (night latches) are commonly found on wooden and timber doors, as well as glass panelled doors.
How much does a rim automatic deadlatch lock cost?
The price of a standard rim automatic deadlatch can start from around £20. However, British Standard BS3621 latches are priced around the £60 mark.
Advantages of rim automatic deadlatch
The rim automatic deadlatch is one of the easiest locks to use, because they come with an automatic shutting process, which simplifies the locking process and enhances your home security.
Can be locked and unlocked from both sides with a key inserted in a rim cylinder.
Disadvantages of rim automatic deadlatch
As the door automatically locks behind you, you could easily lock yourself out when the door shuts.
If your lock doesn't conform to BS3621 standards, the lock will require an additional lock to improve security, for example, a 5 lever mortice deadlock.
Other types of rim locks
Rim Cylinder Locks
A rim cylinder is a pin and tumbler type lock that is mounted to the outer side of the door. The rim cylinder is most commonly used as the external operating system of the night latch. You can easily replace the rim cylinder without needing to replace the night latch, this saves time, money and hassle if you need to replace your lock.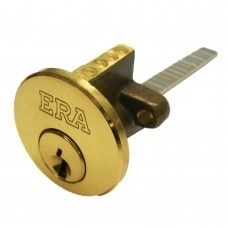 4. Euro Cylinder Locks
Euro cylinder locks are one of the most popular door lock types in the UK. The barrel-shaped lock is predominately found on uPVC doors and composite doors. In addition, you'll find euro cylinders fitted to some mortice deadlocks and sash locks on timber or aluminium doors. Modern euro cylinders feature anti-snap, anti-pick and anti-drill features, to deter opportunist thieves, making them ideal for a wide range of applications, including; residential homes, schools, offices, care homes and hospitals, to name a few.
Euro cylinder locks also come in two different shapes – euro and oval – and can be single, double-cylinder or thumb turn cylinders. Single cylinders can only be operated by one key on one side. In contrast, double cylinders are operated by a key on both sides of the door.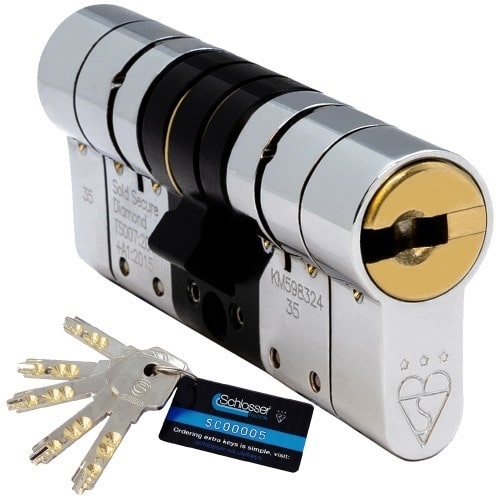 Schlosser Technik 3 Star Kitemark Dual Euro Cylinder
What type of doors are compatible with a euro cylinder lock?
uPVC doors
Aluminium doors
Garage doors
Patio doors
French doors
Wooden doors
Steel doors
For all external doors, it's recommended that you install a 3 star Kitemarked cylinder.
How much does a euro cylinder lock cost?
The average price for a euro cylinder lock is around £30 and may vary depending on the make, model and security standard.
Advantages of euro cylinder locks
There's a wide range of security features available to prevent the following: picking, snapping, drilling and anti-bump locking.
The same key can be used to unlock different cylinders and a master key system can be implemented, making them ideal for buildings that have multiple offices, for example
The cylinder can be changed without altering the hardware.
They are available in a wide range of sizes and models, and therefore are suitable for a wide range of applications.
Disadvantages of euro cylinder door locks
If you opt for a euro cylinder lock that hasn't at least been 1* euro cylinder approved, then your lock could be more suspectable to certain lock-breaking techniques.
We recommend that you either combine a 1* cylinder and a 2* security handle to meet the security standard or to use a standalone TS007 3* cylinder. In our opinion, it's better to fit a security handle, and an anti-bump cylinder as this also works as a visual deterrent.
We hope our complete guide to the different types of door locks has helped you establish the main door lock types and names. If you're looking to upgrade your door hardware, please get in touch with our team of experts who are more than happy to help you navigate through the different types of door locks to find the most suitable one for your home.