What is a Multi-point Door Lock?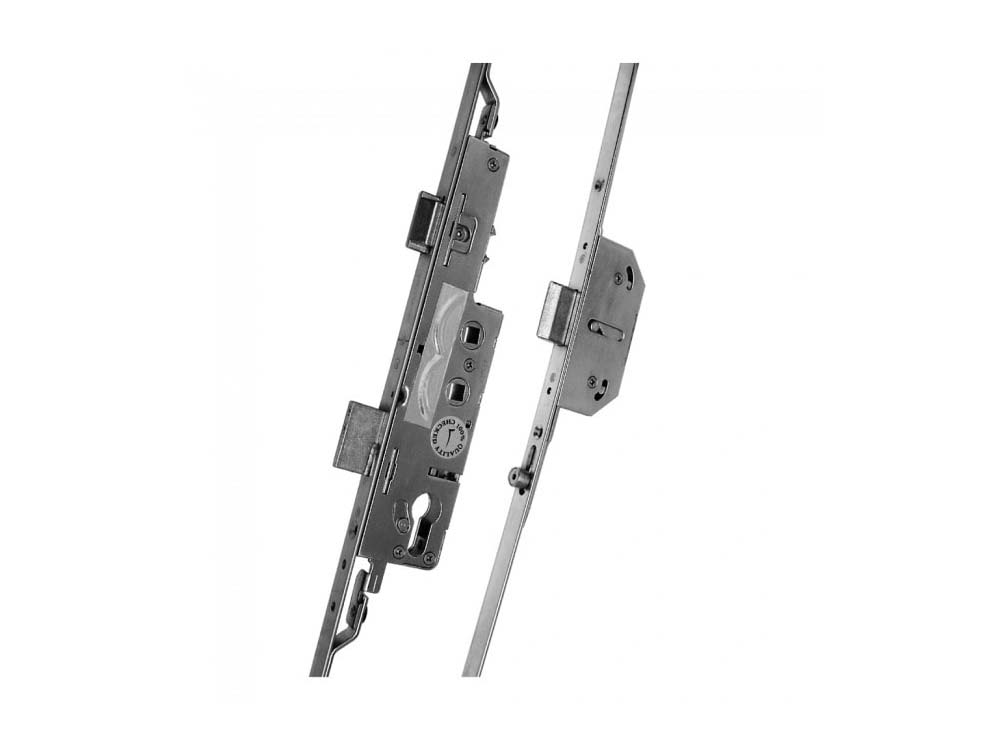 Choosing the right door lock for your home or business can be confusing. With so many different lock types available, we'd like to introduce you to the modern multi-point locking system, one of the most secure door locks on the market. So, if you're wondering what a multi-point lock is or 'how does a multi-point lock work?', we've created this handy guide to help you decide if a multi-point lock is the ideal security solution for your door.
About multi-point door locks
What is a multi-point door lock? Multi-point door locks are most commonly found on residential and commercial properties. This type of door lock is becoming increasingly popular, now being one of the standard lock options in the UK, and it's easy to understand why. Multi-point door locks are one of the most reliable locks on the market. Suppose you're looking to improve your door security by incorporating a multi-point locking system alongside a wider security setup. In that case, you can rest assured knowing that your door lock provides your home or office with sufficient security.
The name 'multi-point' refers to the numerous types of locking mechanisms these locks employ, ranging from hooks, bolts, roller and mushrooms that lock into multiple sections along the door frame to provide added stability and maximise security.
The lock can have up to 7 locking points, typically located at the top, middle and bottom of the door's edge. The extra locking points provide a tighter seal along the length of the door, which makes it extremely challenging for potential intruders to outsmart. Not only does the tighter seal make it harder for intruders to pry the door open, but it also makes your door watertight, improving your home's energy efficiency.
How does a multi-point door lock work?
Now that we have discussed what a multi-point door lock is, let's explore how multi-point locks work.
Outdated multi-point locking systems could only be secured from the inside and required you to turn each locking point manually. Thankfully, modern multi-point locks have come a long way since then and are now easier to operate than ever. They are usually operated by a euro locking cylinder, which is engaged with a key. When engaged, the multiple locking points all respond to the same key turn, locking into the frame – so there's no need to lock all three locking points strenuously. In addition, multi-point locking systems work the same on either side so that you can use a key to secure any side of the door.
Additionally, some multi-point locks do not need to be locked up after you leave. Instead, multi-point work by securing themselves shut once closed. This is known as 'slam action'; closing the door into the frame triggers the fire off, which hooks the bolts securely into place. So that's one less thing to worry about when you're in a rush!
What types of doors have multi-point locks?
Traditionally, multi-point locks were commonly used only on uPVC doors. However, that's no longer the case; multi-point locks are now used on various door types, including:
Composite front and back doors
Patio doors and French doors
Sliding glass doors
Metal doors
Timber doors
What is a PAS3621 approved multi-point lock?
PAS3621 is the new version of the British Standards Institutes BS3621 Kitemark for multi-point locks. These locks offer three maximum-security hook bolts; and are designed to be operated by a euro profile cylinder. We recommend purchasing a high-quality cylinder alongside a PAS3621 approved multi-point lock, as well as a high-security handle set. This will mean you have a 3* setup which should be used in conjunction with a PAS3621 approved multi-point lock.
In summary, the PAS3621 Kitemark standard is a quality mark that is:
Widely recognised
Commonly accepted by the police and housebuilders
Typically accepted by leading insurance companie
Warning signs of failure
Like most mechanical devices, a multi-point lock might eventually fail, especially when the lock has been used thousands of times throughout the years. Here are the top tale-signs that your multi-point lock has failed:
The door handle drops or starts to feel slack.
The locking points show signs of damage or wear.
You notice a grinding or clunking sound when operated.
You need to use excessive force on the handle or key when operating locking the door.
One or more of the locking points fail to operate fully when you use the handle.
The key will not turn in the lock freely.
If you recognise any of these signs, it might be time to either replace your uPVC door handle or your multi-point door lock. When considering replacing your full multi-point system, you should first start looking into the different brands. These locks are crafted by experts in the field, including GU, Winkhaus, Avocet and Schlosser Technik.
We hope you now know how a multi-point lock works and if you're interested in upgrading your door security, browse our large range of door locks today and shop by lock size and brand. Please contact our knowledgeable team or check out our helpful lock help guides if you require any further assistance.