How to Measure and Identify Your UPVC Door Handles
Types of UPVC Door Handles
The most important thing when identifying UPVC door handles is to consider the different types of door handles. These are the three most common types of handles used on UPVC doors:
Lever/Lever: The lever/lever handle is one of the most popular handles for UPVC doors. The handle consists of two movable inline handles.
Lever/Pad: Lever/pad handles consist of one level handle and one fixed or movable paddle handle. Lever pad handles are available inline or offset.
Handles with Snib: the snib handle can be activated to hold the latch back on the lock. These handles are available as lever/lever or lever/movable pad.
Dimensions
There are two critical dimensions when measuring the different types of door handles - the PZ dimension and screw-to-screw dimension. Other useful dimensions include the top screw to spindle and overall back plate length.
The key dimensions are:
A. The PZ dimension – measured from the centre of the spindle (follower) hole to the centre of the euro cylinder hole.
B. Screw-to-Screw (Fixing Centres) - measured from the centre of the top fixing screw hole to the centre of the bottom fixing screw.
C. Top Screw to Spindle - measured from the centre of the top screw hole to the centre of the spindle (follower) hole.
D. Overall Back Plate - the length of the entire backplate.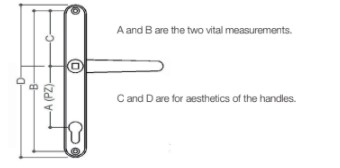 How to Measure a Door Handle
Top Screw Below UPVC Door Handles
If the top screw is below the handle then the process is much easier. This is because top screw handles all have roughly the same dimensions.
Top Screw Above UPVC Door Handles
UPVC door handles with the top fixing screw above the handle come in various sizes. Here's how you can measure your top screw above door handle:
Start by taking your PZ measurement from the centre of the handle to the centre of the keyhole. The most common PZ is 92mm.
Measure from screw to screw.
We recommend measuring your backplate for the overall length to ensure you cover the area where your old handles once were.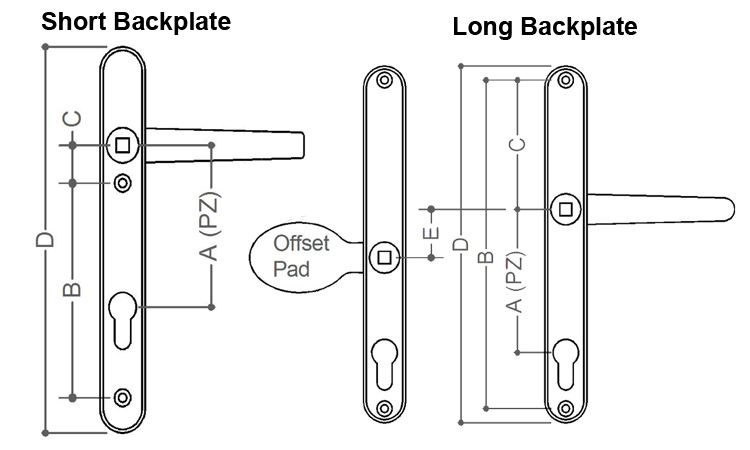 We recommend measuring in millimetres with a tape measure for the most accurate results.
Available Options
At Security Hardware, we stock many different types of door handles from various brands such as Yale, Mila and ERA. Our handles also come in different finishes, including white, black, polished chrome, polished gold and satin silver.
By Size
You can shop our door handle range by size for PZ and screw-to-screw dimensions:
PZ: Our range of handles expands from 92mm through to 68mm PZ.
Screw Centre: Our range of screw-to-centre handles comes in a range of sizes, from 122mm to 240mm.
We also offer door locks, UPVC door handle accessories and additional safety hardware for doors. If you would like any further assistance with measuring your door handles, please get in touch with us today. Our expert team will help you out.