Window Handle Identification Guide
Handing
Window handles can be left-, right- or non-handed. This refers to the direction in which the mechanism operates, and it is important to use the correct handing when you identify your window handle. See our help guide for more detail on proper hardware handing.
Different Types of Window Handle
The most important thing when identifying window handles is to be aware of the different types of window handles and check which type of window handle you have. The most common types include:
Short for espagnolette, espag window handles are available in inline and offset variations. They operate using a spindle designed to fit into the gearbox of the corresponding espag window lock.
The oldest type of fastener used on windows, the cockspur handle, uses a simple latch and catch arrangement. These are commonly found on UPVC, timber and aluminium window frames.
Tilt and turn window handles are suited to tilt and turn windows, allowing the window to open and lock in two different positions (typically, these are having the window open fully and tilting it open at the base for ventilation).
Available Options
We have a range of sizes and styles to suit many different types of window handles, so you can find one to suit your window frame. In addition, we offer five different finishes: white, gold, chrome, satin and black.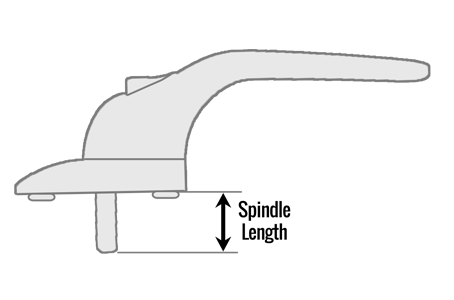 Espag Handle Measurements
Our espag window handles come in a range of spindle lengths, with a standard screw-to-screw distance of 43mm. The spindle length sizes offered are:
10mm
15mm
20mm
30mm
43mm
55mm
Cockspur Handle Measurements
Cockspur handles are a two-piece arrangement involving a latch (cockspur handle). Some will also close into or onto a catch, but some cockspur window handles (including our most popular handle) have a key locking button – this acts as its own integral catch to lock into position.
Our range of cockspur window handles will suit most existing applications, with the range of sizes including:
We also offer cockspur wedges and packers, and our cockspur window handles are available in five different finishes.
Tilt and Turn Handle Measurements
Our tilt and turn handles come with a 38x7mm spindle bar and fixing screws. This aligns with the industry-standard 38mm fixing centres, making these handles suitable for most tilt and turn window locks.
We also offer window locks and accessories, as well as additional safety hardware for windows. In addition, why not browse our range of friction stays and hinges? See our window hinge guide for sizing and other useful information.
If you'd like more information or guidance on identifying window hardware, please contact our expert team today.